If some of your accounting postings are missing, it may be due to a HOLD or FAILURE. You can run a Hold/Failure report for your entire company, across all locations and resolve issues for each location, one at a time. Shogo recommends running the Holds/Failure report monthly or prior to account reconciliation to ensure all accounting data is posted.
Holds
A HOLD on your accounting is usually due to incomplete mapping.
You can release a Hold on your accounting posting by doing the following:
Run a Hold/Failure Report
1.Log into your Shogo account
2.Click on Reports>Holds&Failures
3.The Holds & Failures Report will show you what type of issues you have and where to solve the issue. You can click the green Resolve button and for the Holds, you will be routed to the Settings>Accounting screen. This is where you will remap all of the accounts that are creating a hold on your accounting. You will do this for each location, returning to the Holds and Failures report until all of the mapping is completed. Use the yellow highlighting and red badges on the Accounting screen to guide you through the mapping process, editing each item/category that is missing an account number for your accounting system.
Shogo Accounting Setup and Mapping - Step by Step Guides
You can also view your mapping by clicking Settings>Accounting and clicking View Details (you will need to click View Details if you have multiple locations)
Failures
A FAILURE can occur for multiple reasons but may be due to 1) your accounting system may be missing items that were previously mapped to your Shogo account and were deleted. 2) your accounting system may have had a connection problem. This is commonly caused by changes in your accounting system (such as the deletion of a mapped item),user permissions being changed, passwords changing, or a file path changing.
If you go to the Accounting Tab for a sales report on a specific date, you will see an error message, which will indicate why the accounting is failing to post.
To view the report below, Click on
Reports>Sales Totals
Select your Store and Date Range, then click Refresh
Click on the date that has a Failed post to view the reason the post failed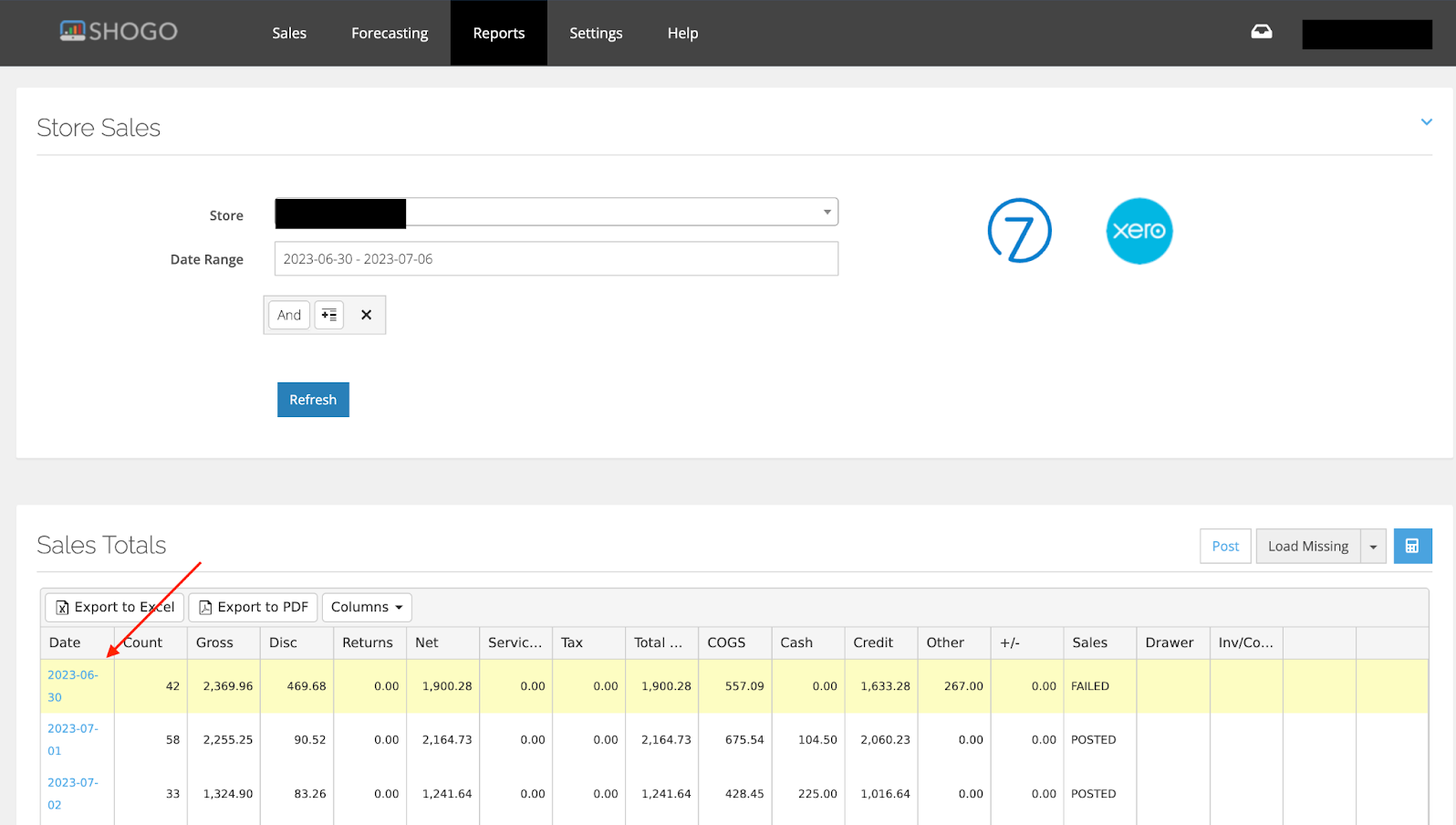 Click on the Accounting tab to view the Accounting Report. In the example below, the Department D1200 has been deleted from the accounting software, preventing the accounting from being posted.


4. Accounting failures need to be reported to Shogo to regenerate and sync the accounting entry once the root cause is addressed.
If you have any additional questions, please check our Online Knowledge Base at support.shogo.io, or let us know.